A men's yoga class incorporating strength, balance, and flexibility - stimulating the mind and restoring the body.
yoga4men is a style focusing specifically on the male body and targeting common areas of tension - shoulders, hips and hamstrings. Whenever you do a Y4M class you will have a BLAST! It's a balance of playful discovery, mindfulness, challenging physical practice and inspiring philosophy
WEEKLY YOGA
OPEN LEVEL yoga4men every Wednesday 7.00pm - 8.00pm
Month-to-Month payment  4 classes per month
Save 30% and sign up for only £42 a month
 Drop-in Rate £15 per class

Address
Central YMCA KX
120 Cromer Street, Bloomsbury, London WC1H 8BS (map)
______________________________________________________________________________
London Y4M Teachers
RAD KAIM
Senior RYT Hatha Yoga teacher. The founder of Yoga4men - interested in coaching, energy healing and meditation. I am here on a mission to get more men on the yoga mat. Find out more about Rad here and the yoga he teaches.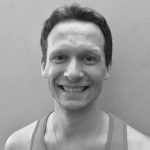 RHYS HOWELLS
Rhys discovered yoga through being a keen amateur distance runner. He needed something to complement his training. He is an Anusara Elements yoga teacher. He really enjoys the heart opening focus of the style and also the alignment principles. He trained with Bridget Woods Kramer.