Change Your Life in 30 Days!
5 Week Online Course
Purchase Now and Start Anytime To Suit You (£50)
Log in or Register to Enrol Today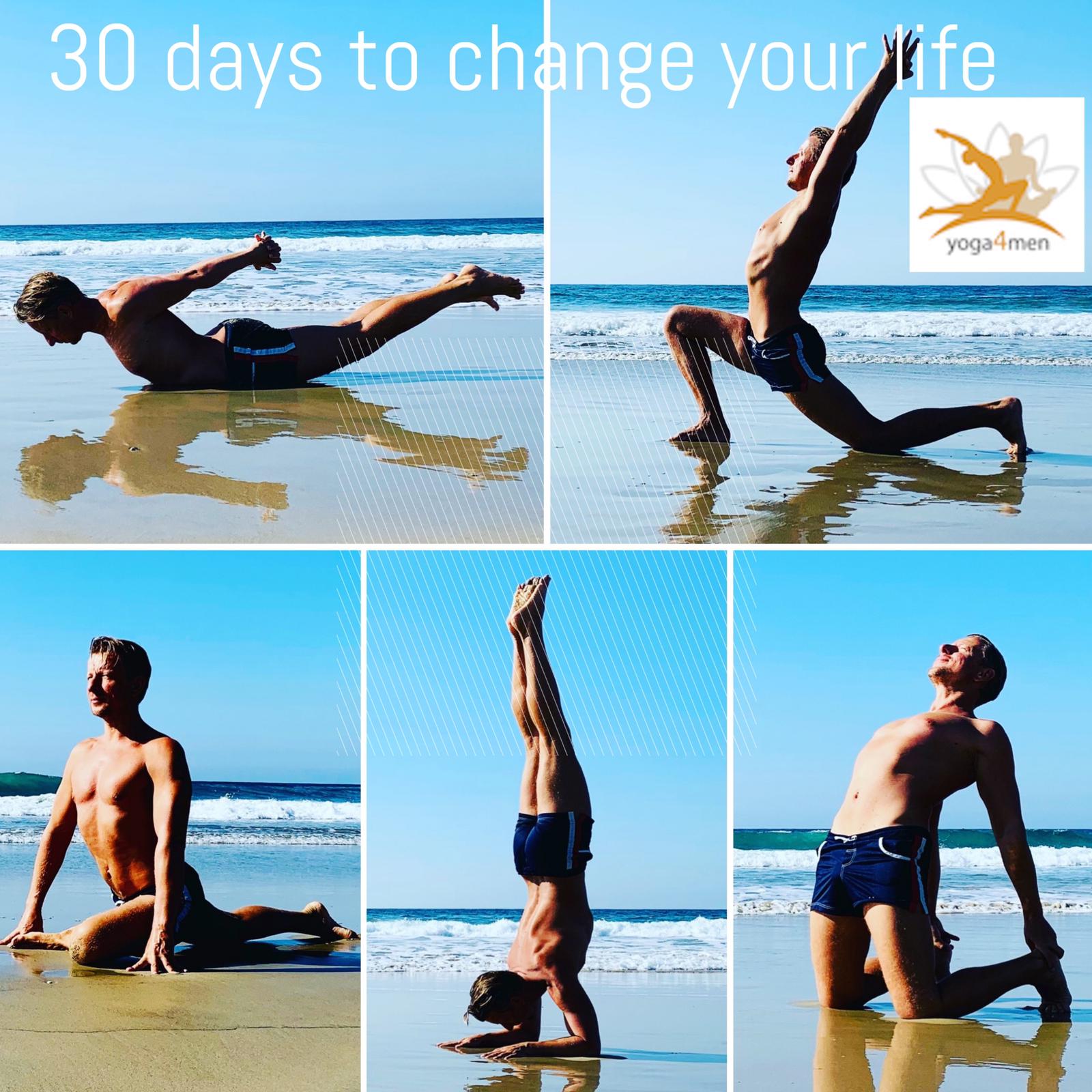 "Everyone wants transformation, but no one wants to change." Commit to 30 days of Yoga and you will establish a healthy pattern that can
CHANGE YOUR LIFE!
Yoga is so common today it is a household word. Many people want to try yoga, but don't know where to start. And others who have tried yoga would like to make it a part of their daily life, but struggle to find the time. With structure and commitment we can turn this around! Do yoga–wherever you are, whoever you are, whenever you can.
You Will Receive and Learn:
A 30 day Mindfulness Journal
Daily Mindfulness Practices (meditation, breathing, contemplation, affirmation)
Routines to do at work/desk in just 5 minutes.
15 minute routines to fit in during breaks
Longer 20 & 30 minute Yoga Practices at home and on the go
Daily tutorials, video lessons, audio instruction, visual sequence PDFs
Strategies to de-stress, calm, focus, heal, energize, optimize
Tools to increase your happiness, your productivity, your confidence
Learn effective home practices that you can continue for years to come. Do yoga wherever you are, whenever you can, with whatever you have.
Change Your Life in 30 Days! Log in or Register to Enrol
"I want to thank you Rad for this amazing course. I've learned so much. Despite wanting to get more serious about my yoga, I could never find the motivation to practise on my own at home. This course has changed all that and yoga has now become a part of my daily routine. This is all down to this unique and inspirational online course.
" Nigel
"I had always intended to wake up a little early and do some yoga. But it didn't happen. I'm not sure why but when the moment came, I always felt a little bit too tired, or I didn't quite know what to do, or how to start, or doing yoga on my own made me feel self conscious. Yoga4Men online course helped me care for and appreciate the life I have, the people in my life and myself. By taking time, to daily stretch, meditate and rest, I not only ensure that I remain in good working order for life, but I also increase the chances that my body will carry me into my dotage. Even though the classes are finished I find that I still do my routine, now almost thirty minutes a day and sometimes a little longer. I am still in touch with the other men with whom I did the classes with and they continue to be a source of friendship and support." Simon
"There are many Benefits to doing Yoga but its not easy to find a source or a channel where you can find more focus on the male body and anatomy. I believe Rad's course was successful in closing this gap. Not to forget that you feel more comfortable with setting of training among men sharing same goals and issues. Also with having a follow up with the instructor you can be held more accountable to training! Finally I would say that my experience was extremely positive and I am seriously thinking of attending a future residential retreat to go deeper into the Yoga practice." Shaker