Yoga Classes in Cologne ( Köln) Germany
Location; Moltkestr. 123-131b | 50674 Köln
 Every Thursday 5.30pm
Jeden Donnerstag 17.30 Uhr
A men's yoga class incorporating strength, balance, and flexibility - stimulating the mind and restoring the body.
yoga4men is a style focusing specifically on the male body and targeting common areas of tension - shoulders, hips and hamstrings. Whenever you do a Y4M class you will have a BLAST! It's a balance of playful discovery, mindfulness, challenging physical practice and inspiring philosophy
Y4M Teachers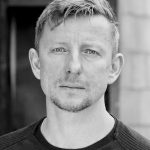 RAD KAIM
Senior RYT Hatha Yoga teacher. The founder of Yoga4men - interested in coaching, energy healing and meditation. I am here on a mission to get more men on the yoga mat. Find out more about Rad here and the yoga he teaches.